Handyman
Want to be a handyman? Here's how.
The Escape Plan contains all you need to know to set up a handyman business. Get it here:  Click here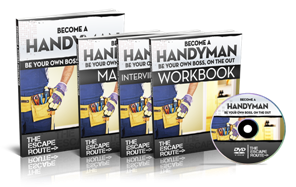 The pack includes the following items:
Video interview with a self employed handyman/carpenter (an ex-prisoner)
Transcript – a written copy of what the handyman said
Workbook – which checks that you've grasped the information contained in the DVD
Getting Started booklet – explains how to set up as a handyman. This booklet covers topics like choosing a business name, and how to answer the phone.
Finance and Legal booklet – This booklet covers setting up as a sole trader, getting registered for tax, and doing the books, etc.
How to Find Clients booklet. This booklet is about getting your own website, creating flyers, advertising in online classified sites, and networking.
Roadmap – shows you the way forward
Startup Diary of an ex-prisoner
Request a pack.
It's free to prisoners and ex-prisoners.