Self employment for sex offenders
If you've been convicted of a sexual offence, your opportunities for self-employment are reduced but still possible.
Many of our Escape Plans are about working in someone's home. If you've been convicted of an offence against a minor, your licence conditions will probably prevent you from working in people's homes. This means most of our trades (handyman etc) will not be suitable for you. At the Escape Route we're hoping to develop some Escape Plans suitable for sex offenders.
Not every home has a child, but because you can't forecast which homes have young people, the probation officer would probably decide not to let you work in private homes.
If you've been convicted of a sexual offence against an adult, your licence conditions might allow you to work in someone's home. But it will depend on the nature of your crime, and the risk. In other words if you have a history of attacking an adult in their home, you would be barred.
You would be more likely to be allowed to practice a trade on a building site. So if you wanted to work as a carpenter on a building site, you have a higher chance of this being accepted. If you have been convicted of an offence against a child the site could not be near a school or playing field.
If you have committed internet offences you would probably not be allowed access to the internet, so you couldn't seek work this way.
You have a higher chance of being allowed to work in an office, but this too will depend on your offence.
The good news
Your response to management will be taken into account with any risk assessment. So if you identify with your victim, and are willing to work with your offender manager, this will be taken into account and over the course of your licence period your conditions might be relaxed as your risk in the community decreases.
Here are some more routes into work:
Upcycled table and chair
Craft work could present an opportunity for you. Many prisons have workshops where you can learn carpentry
People like hand-crafted goods for the home. 'Shabby chic' is a popular expression meaning something that looks a bit rough but stylish.
Upcycling is another popular phrase. It means upgrading low value or discarded items. You can make items out of old pallets, pipes, fabric or leather.
You could re-upholster some old chairs. You could get a battered chest of drawers from a junk shop and paint it. Or you could reclaim items from a skip.
Taking items from a skip
Technically you could be arrested and charged with theft for taking things from a skip. But this normally applies only if you take goods from a council-operated waste recycling centre, because the council makes money from recycling.
Is taking items from a skip theft? The Theft (Amendment) Act 1996 of the Theft Act 1978 says: (1) A person is guilty of theft if he dishonestly appropriates property belonging to another with the intention of permanently depriving the other of it.
In other words, it depends on whether the jury decides that the owner of the skip intended to get value from it, for example by selling the scrap metal. Note: Do not treat this as legal advice.
It is best to ask permission before taking something. Someone said: "I once came across a lovely guitar with absolutely nothing wrong with it apart from needing a new set of strings. It was lying outside our local church so I went inside to ask if they were really throwing it away to which they replied yes and asked if I would like to take it with me because they would rather it go to someone who would use it."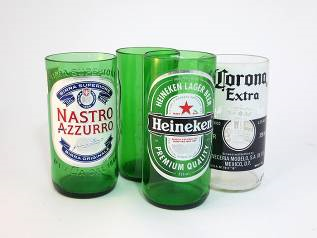 Bottles recycled into tumblers
Try to get hold of a book on Upcycling or Junk. They are full of imaginative ideas for creating products from old metal, wire, paper, card, fabric and bottles.
You then need to sell your products. Try offering them to local shops. Get a stall on a craft fair or market stall, or find someone to run the stall for you.
Save
Save